Happy holidays!
This is a good time to be associated with TNAsylum. Yesterday, we rebooted our site with a new logo and a new look. The logo is inspired by the new IMPACT Wrestling logo for their move to Destination America. Like theirs, our has the symbolic six-sided symbol as representation of TNA's six-sided ring. We are also using a similar color scheme to IMPACT Wrestling's new scheme.
As I mentioned on my website, the team at TNAsylum has a "do or die" attitude heading into the new year. We want to put it all out there for our readers. TNAsylum was created years ago to give TNA fans the best content that they can receive. I feel that TNAsylum's original content is what makes it stand out as something different.
Now some might not understand our scaled back but focused approach. We have eliminated the filler content and are focused on giving you original material. We're cutting out "newz" to give you news. As done by ACN in the TV show, the Newsroom, we want to be a site shining an honest light on TNA. We aren't going to pretend that the brand is perfect, but we also aren't going to spend our time burying the company for its weaknesses. People's lives are affected by what the company does. Its success impacts hundreds of thousands of people. Many wanted the company gone months ago but for now the company will have to die another day.
-In the midst of TV negotiations, Dixie Carter acknowledged that her main focus was giving TNA additional programming. If that was her main goal then mission accomplished. With Destination America, not only will IMPACT be airing but so will an immediate replay, a special recap show called
IMPACT Wrestling: Unlocked
and
TNA's Greatest Matches
.
The IMPACT Wrestling: Unlocked show excited me most. Mike Tenay will be hosting it and will include his backstage knowledge to add extra insight into storylines and feuds. He will also be ranking the stars of IMPACT which provides a sports-like feel to the show. My guess is that it will be kind of like Reaction in that it will provide some original content but won't be a brand new show. I know I will stick around for the first airing to see if it is a fresh experience.
The "TNA's Greatest Matches" show doesn't interest me as much. I have seen pretty much everything those specials will give us. Each of those specials could have been made into a DVD and sold at ShopTNA.com. It should provide extra revenue for TNA.
I don't know how excited I am that IMPACT Wrestling is moving to Fridays though. I know I am really busy on Fridays and it will be difficult at time to catch the show when it originally airs. I am hoping their viewership benefits from the move.
One programming addition that I hope still happens are TV specials. While Lockdown, Slammiversary and Bound For Glory will likely remain on PPV, I would like to see TV specials on Destination America (much like Clash of the Champions or Saturday Night Main Event) during the off-month. Whether it be a free-per-view like Genesis, Destination X, Hardcore Justice or No Surrender or whether it be a themed One Night Only special, I hope we get it on free TV. This is an approach that TNA should focus on to combat WWE's Network.
-Dixie Carter promised production changes starting in the new year. She mentioned that the Live episode of IMPACT probably won't see as many since production changes would go into effect for the taped shows. From a production standpoint, TNA has done a good job in its history. Whether it be Reaction, the off-site segments (Hunt for Willow etc.) or the improved backstage segments in 2012, TNA is pretty good with them. This is one aspect that I am most excited about.
I'm also hoping their ringside presentation improves. I would like a little bit more of an entrance set than what we got in New York City. There has to be middle ground between NYC and the set before it. We don't need pyro and three big screens but something unique that helps bring out the characters on the show would be good. I'm also hoping the lighting is better than the Bethlehem shows. A dark atmosphere really takes away from the show.
-I sat down this past Wednesday and watched the countdown to TNA's best moment and I came to a realization that it was very similar to the Slammy Awards. It won't necessarily represent the truth but instead will be a way to promote the company, its stars and its storylines. The countdown definitely missed out on many of its greatest moments while also including some moments that really didn't belong there.
Out of 20 moments, 16 happened after Dixie Carter took over in Summer 2009. The number one moment on the list was Dixie Carter being put through a table. Now, I think that moment belongs in the top twenty but I would argue that it belongs at number one. While the Jarrett Wedding, Amazing Red's Ultimate X Match in 2009, Magnus unifying the World Titles, Bobby Roode winning the title this year and Full Metal Mayhem from this year were included, many of the biggest moments weren't. Arguably, the Headbutt heard from around the World should definitely be on this list. What about the TNA debuts of Sting, Christian Cage, Mick Foley or Kurt Angle? AMW vs Triple X (including Elix Skipper's monumental walk across the top of the cage) in Six Sides of Steel?
There are many moments that should have been included if this was a real look at their best moments. TNA had the task of promoting their company however so it made sense to include the stuff from recent years featuring their current stars. I am hoping though that in the future, they release a DVD or special highlighting their true top 20 (or 50) moments. In the past, those have been some of my favorite TNA DVDs.
-One area that I really hope TNA focuses on is their storylines. When you look at the competition, there really isn't a company that does real storylines. WWE focuses on characters interacting, not storylines. If TNA could add depth to their storylines with details, backstory and nuance, they could really stand out.
For example, TNA could have benefited if they added more depth to the James Storm/Sanada vs Great Muta feud. TNA could have added more description on Sanada's motivation to become the Great Sanada. They could have added more depth on why James Storm hates Great Muta. What if they added backstory to the Bound For Glory PPV. They could have given the show context by saying the entire country of Japan is disgusted by what James Storm and Sanada did to the Japanese Legend. The Japanese company wants to regain their honor by proving they are better than TNA. With that one little move, they could have given context to MVP vs Sakamoto, Hama vs EC3, Manik vs Minoru, the X Division Championship and the main event. Giving context to these midcard matches would have made the main event stand out even more.
As fans, we can admit that TNA's doesn't always explain their moves. Things are dropped while others take a twist that doesn't make sense. While we want an unpredictable show we also want one that is logical.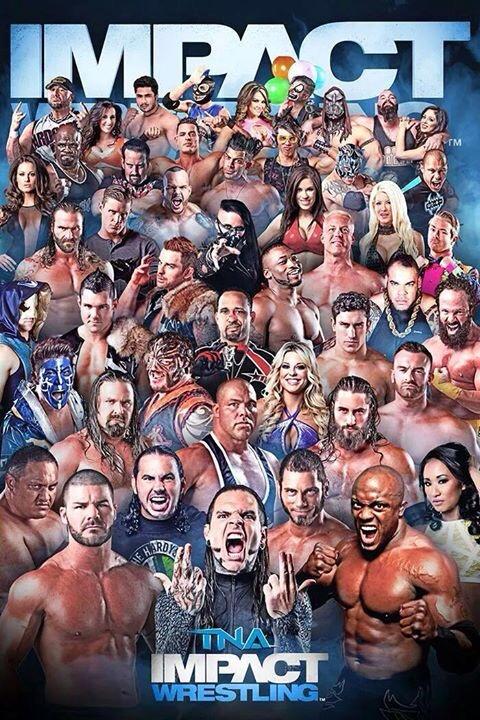 -TNA recently released a poster showing their roster for NYC. There are a few interesting notes from it. Not only does it use the old IMPACT Wrestling logo (indicating its age) but it also includes names like Velvet Sky (who said she wouldn't be there), Team 3D and Tommy Dreamer, Brittany and Brooke. Some of these names have been rumored to have left TNA so its interesting to see if they will be included on the show.
-With James Storm's momentum, I am hoping that we see him tangle with Bobby Roode for the World Title this year. I have always felt that James Storm and Bobby Roode should be rivals over the years much like Shawn Michaels/Triple H or Randy Orton/John Cena have been. Whether Storm is a face or a heel, these two should go to hell and back and meet each other over the years. Both men can deliver in the ring and on the mic. Lockdown would be a great location of that meeting.
Austin Aries is another guy who should be close to the championship scene. TNA cut his legs out from under him right when he was on top and he hasn't gotten back there since. He and Roode are great rivals and could deliver many great matches that could entertain the crowds.
What about Eric Young? He won the World Title this year and was the constant underdog. His reign ended only a few months later and it was Roode who got back in position and won the title. There was a competitive rivalry between Roode and Young this year that gave us some pretty good matches. I could see EY turn heel and then go after Roode. He may not regain the title but it could be a fun program if done right.
TNA has so many programs that they can go to with Roode: Aries, Storm, EY, MVP, Abyss, EC3, Magnus or someone else. They need to keep Roode strong. He is the face of TNA and should be the workhorse of the company.
To read more exclusive content from Talon, check out his website here.